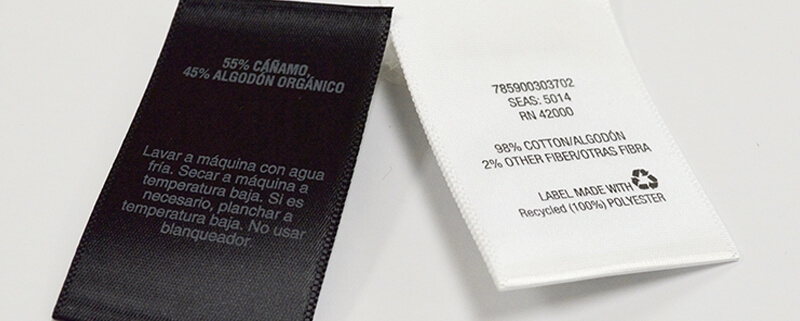 Apparel makers tell the story of international distribution on a very tiny canvas: the care and content label. As apparel brands increasingly sell their goods around the world, care labels become ever more complex.
"We started printing care labels over 30 years ago—back when it was dot-matrix printing and there weren't any regulations," said Emily Garcia-Velasquez, licensing and apparel account manager for Progressive Label in Commerce, Calif. "It was just a 1-inch-by-2-inch label—very simple."
In addition to wash instructions, today's labels also must include such information as fabric content, country of origin, and chemical disclosures and warnings. For example, California's Prop. 65 requires manufacturers to include a warning label if the product contains certain chemicals such as lead. The U.S. Consumer Product Safety Commission requires flammability warnings for apparel, and there are similar requirements in the European Union. Both the U.S. and the EU allow manufacturers to specify whether some of the fabric content includes recycled materials, but each requires that information be presented differently.
"The U.S. has a set of requirements. Japan has some similar requirements, some of the same requirements and then some additional requirements. That's pretty much the case, country by country. And, of course, there's the local language," Kim Schneider, senior director of global compliance solutions at Glendale, Calif.–based Avery Dennison, said. "It's really a key dilemma that the entire industry is facing. There's a desire for a supply chain with maximum flexibility and the ability to ship products into any country, which would mean a lot of different languages and meeting all of the different requirements. That can result in a very long care and content label. Depending on where you're selling, you could be looking at 30 or more languages."
Last month, three trade organizations, the Brussels-based European Branded Clothing Alliance and two Washington, D.C.–based associations, the American Apparel and Footwear Association and the United States Fashion Industry Association, published a joint position paper regarding the proposed Trans-Atlantic Trade and Investment Partnership (TTIP) between the U.S. and the EU. In the paper, the groups recommend "harmonisation of regulations on labeling" to resolve the difference between the U.S. and the EU. The position paper suggests simplifying the labeling requirements based on International Organization for Standardization (ISO) standards and eliminating U.S. state and Member State requirements (such as Prop. 65) in favor of U.S. and EU federal-level requirements.
Robert Loop, a founding partner and chief strategy officer for Santa Barbara, Calif.–basedNexGen Packaging, said this is one of the "forefront issues" in the industry.
"We have customers considering moving up to 32 [languages] to increase the footprint of their label," Loop said. "It would be a very complex label that would allow you to make one garment in Asia and ship it anywhere in the world. That's the challenge: understanding all the laws of all the countries and then understanding all the care-label languages and all the symbols requires all the key components. You'd need a Ph.D. basically to figure it out. I feel for our customers."
And while label providers try to give their customers some guidance, Loop points out that information about the countries where the garment will be sold ultimately comes from the manufacturer.
"It's really the obligation of the importer of record for the accuracy of the care label," he said. "As the label provider, we're the execution phase, but the retailer or brand owns the complexity."
Typically, the initial inquiry comes from a brand's trim department, but "very often their legal department takes it over and says, 'This is what we're going to do with the care labels,'" Loop said.
It's a similar process at Progressive, where all the care-label information is provided by the manufacturer.
"Since we've been doing it for so long, we are able to give advice on how to lay it out so it doesn't seem so long," Garcia-Velasquez said. "We do folding techniques to make it seem like a shorter label—when really it's an 8-inch label that we fold down to a 3-inch label. They get all of the information that's needed, but it's not hanging down half of the shirt."
Garcia-Velasquez also recommends customers include additional languages on the care label—even if they are not yet selling in those countries.
"I have customers that are just getting started, and if they think they might be selling in Canada and Mexico, it's really not costing them anything else at all to just go ahead and include those two options," she said. "It's no cost but all value added, just in case."
NexGen's Loop also suggests manufacturers plan ahead.
"Have a plan to understand what the requirements are for that country and then work with a global label company," he said. NexGen has a database of content information translated into about 32 languages. When new requirements arise—"as they often do each season," Loop said—NexGen works with an ISO-certified translation company to get an authorized translation, which then has to be reviewed and approved by the brand or retailer.
Avery Dennison doesn't recommend brands add additional languages to their tags "unless they have a firm plan to enter [those] new markets," Schneider said. "We do have solutions that are flexible in re-engineering care labels to either meet global requirements or regional requirements. We [can] help our brands come up with multiple layouts in different ways so we can optimize space and get the care labels as small as possible."
Companies looking for guidance on care-label requirements around the world can find some information from the U.S. Department of Commerce's Office of Textiles and Apparel (OTEXA), which publishes a table of international care-label requirements. However, OTEXA says this information is only a guide and recommends companies consult "your importer or the appropriate authorities to confirm the current labeling requirements."
Avery Dennison publishes its own compliance guide for its customers.
Schneider said that as brands and retailers streamline their operations to keep competitive, some are reducing the resources they put toward care-label compliance.
"Brands that used to have an entire department that would deal with global care-label requirements—we find that those teams are either significantly reduced or their resources are being focused on other areas of the business," she said. "That's why we started putting together a whole legal compliance guide to help support our customers. As they enter new markets, the sorting and sifting through all the legal requirements can be an absolute daunting task. We find our customers are relying on us for our guidance in that area. And that's something that we do really well."