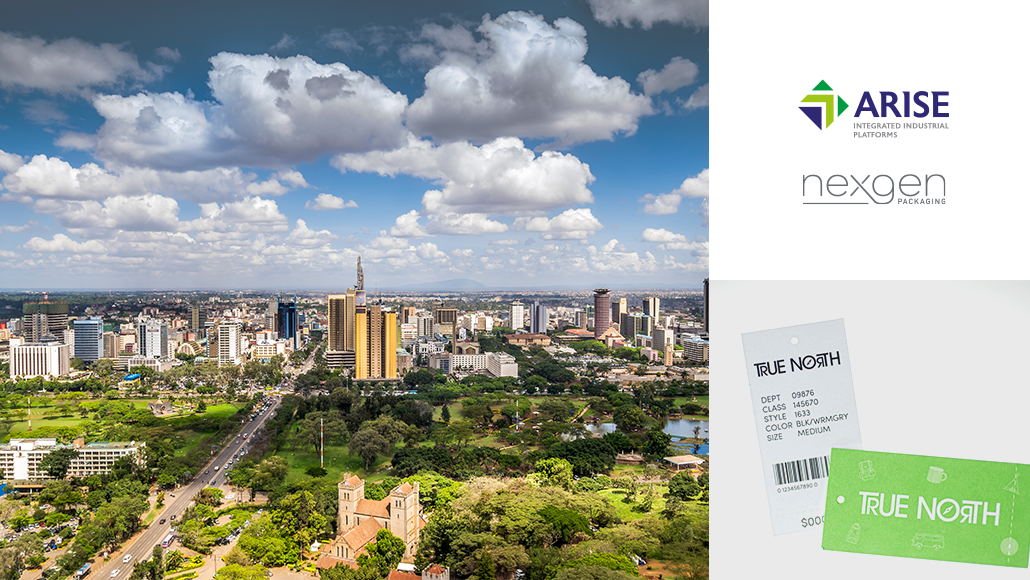 Nexgen to provide packaging infrastructure and services for ARISE IIP's textile & apparel parks manufacturing centers in Togo & Benin (West Africa).
WESTMONT, IL – July 26th, 2023 /PRNewswire/ — Nexgen Packaging, a leading provider of sustainable packaging solutions and paper fiberboard hangers, announced today their partnership with ARISE Integrated Industrial Platforms (ARISE IIP). ARISE IIP specializes in developing and operating high-value industrial ecosystems in Africa, offering a comprehensive service from concept to operation. ARISE IIP designs, develops, operates & promotes Integrated Industrial Zones throughout Africa, focused on the local transformation of locally produced raw materials (particularly cotton) into value added and fully traceable textiles & apparels. The final products are then shipped to the US and European consumer markets.
ARISE IIP's industrial ecosystems are designed in partnership with local governments, following the Public Private Partnership (PPP) model, aligned with local governments' development agendas. The ecosystem approach allows for competitive transformation and fulfills all the strategic requirements of businesses. The ARISE IIP textile parks in Togo and Benin offer advanced infrastructure, proximity to seaports, raw materials, a skilled and competitive workforce, sustainable processes, and a stable political environment.
Rajaguru Raja Thandal, Textile Business CEO at ARISE IIP, expressed his confidence in the partnership between ARISE IIP and Nexgen Packaging, stating, "This collaboration is going to be a considerable milestone for the textile industry in Africa. We remain certain that it will bring innovative solutions and elevate the textile industry to new heights, making Africa the next global textile hub."
Nexgen Packaging is a leader in sustainable packaging production in Africa. As a part of this partnership, Nexgen will be investing in infrastructure and services to support ARISE IIP's textile facilities in the West African countries of Benin and Togo. This commitment will include immediate investment in equipment and raw materials to provide support for trims, labels and other packaging requirements in these industrial parks. Nexgen's long-term goal is to have a scaled, local presence in both locations that supports all packaging needs for local manufacturers.
Since its inception over 16 years ago, Nexgen has become a leading producer of packaging solutions for the retail, apparel, and footwear industries by listening to customers and responding quickly and nimbly to their needs. Nexgen's focus on providing true sustainable offerings and investing in an optimized supply chain is a unique approach in the industry and one of the primary reasons customers are choosing Nexgen as their strategic global supplier.
Jim Welch, Nexgen CEO states, "Nexgen is leading the industry with our commitment to sustainable packaging in Africa. We are honored to be contributing to the vision ARISE IIP has for retail and apparel manufacturing in Africa and look forward to immediate opportunities working with brands and retailers from Europe and the US who are beginning to explore the opportunities that exist in West Africa."
About Nexgen Packaging:
Nexgen Packaging, LLC is a global provider of apparel brand identification and packaging products, serving the creative, product development, and production needs of apparel and footwear manufacturers and retailers, and their global manufacturing partners. The company is focused on simplifying everything from the creative process to order execution, utilizing innovative technologies to increase supply chain efficiency and enhance customer success. Nexgen has sales and manufacturing operations globally with headquarters in Hong Kong, Chicago, and Madrid.
About ARISE IIP:
ARISE Integrated Industrial Platforms (ARISE IIP) is a pan-African developer and operator of world-class industrial parks committed to making Africa thrive. We identify opportunities in commercial and industrial value chains across Africa and conceive, finance, build, and operate the necessary infrastructure, playing a catalytic role in supporting countries to transition to an industrial economy. We are driven by the pursuit of green growth; our ambition is to unlock the continent's industrial potential while neutralizing our carbon emissions and climate impact. ARISE IIP is currently present in Benin (GDIZ), Togo (PIA), Gabon (GSEZ), Côte d'Ivoire (ZIC), and more. GSEZ won the Honorable Mention and High Recommendation of the Financial Times' fDi Global Free Zones of the Year 2022.
CONTACT INFORMATION:
Nexgen Packaging
Media Contacts:
Debbie Bougas
805.701.1105
debbie.bougas@nexgenpkg.com
javier.menchen@nexgenpkg.com
ARISE IIP
Vikas Budhiraja
Vice President-Marketing
+971544494702
Vikas.Budhiraja@arisenet.com